Buy four select Goodyear or Kelly tires, get up to a $100 rebate by mail*
*Dealer-installed retail purchases only. Limit one offer per customer. $100 rebate on Goodyear...*Dealer-installed retail purchases only. Limit one offer per customer. $100 rebate on Goodyear Assurance WeatherReady, Eagle Exhilarate, Eagle F1 SuperCar Family, Wrangler All-Terrain Adventure with Kevlar, Wrangler DuraTrac. $75 rebate on Goodyear Assurance ComforTred Touring, Assurance MaxLife, Eagle F1 Family, Eagle Sport All-Season, Wrangler Fortitude HT. $50 rebate on Goodyear Assurance All-Season, Wrangler TrailRunner AT, Kelly Edge MT. Offer valid 9/1/20 to 9/30/20. Submit rebate by 10/31/20. Rebate by Mastercard® prepaid card. Mastercard is not a sponsor of this promotion. Ford is not a sponsor of this promotion. See Service Advisor for vehicle applications and rebate details. Offer valid with coupon. Expires 9/30/20.View DetailsHide Details
Expires: 9/30/2020
Print This Coupon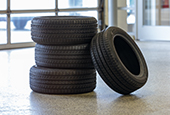 LOW PRICE TIRE GUARANTEE*
Why buy tires anywhere else when your Ford Dealer offers all of this:
• 16 major brands
• 30-day price guarantee
• All makes and models
*Valid on dealer-installed retail purchases only. Requires presentation of competitor's current...*Valid on dealer-installed retail purchases only. Requires presentation of competitor's current price ad/offer on exact tire sold by dealership within 30 days after purchase. For online quotes, guarantee applies only to new tires sold on retailer websites. Excludes tires sold by third parties on marketplace sites and any resellers. See Service Advisor for details. Expires 12/31/20.View DetailsHide Details
Expires: 12/31/2020
Print This Coupon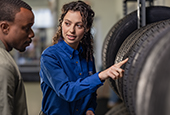 Why choose Ziems Ford Corners for your tire needs?
The factory-trained service technicians at Ziems Ford Corners know your vehicle best and are ready to help you find the best tires for your specific model at the best price possible. In fact, we offer great tire deals on 16 quality name brands:
• Goodyear
• Dunlop
• Kelly Tires
• Michelin®
• BFGoodrich®
• Uniroyal®
• Hankook
• Continental
• General Tire
• Pirelli®
• Bridgestone
• Firestone
• Yokohama®
• Toyo®
• Nitto®
• Falken
Other benefits of Ziems Ford Corners tire services include:
• Full-service maintenance and repair facility
• Parts and labor warranties
• Clean, comfortable waiting areas with free Wi-Fi
• Shuttle service to and from your home
• Friendly and knowledgeable staffReady for a rotation or new tires?
The Ford Service Credit Card
The Ford Service Credit Card is a financing option that lets you pay for all service maintenance and repairs, including tire purchases and installation, at Ziems Ford Corners and other Ford Dealers across the U.S. It only takes a few minutes to apply and receive the decision.
Upon credit approval, you'll be provided with a credit line to assist you with all in-store purchases, including:
• Ford Motorcraft® batteries
• Parts
• Accessories
• Tires
• Extended service plans
• Loaner vehicles
• Body shop repairs
• And more
Questions about Tires? Let us Help!